Welcome to Everyday Stamping where I share my passion for paper crafting.
I create beautiful cards, scrapbook pages and 3D projects using Stampin' Up! Products.
I hope you will find something you like.
To International Readers, there is a Google Translate button at the bottom for your convenience.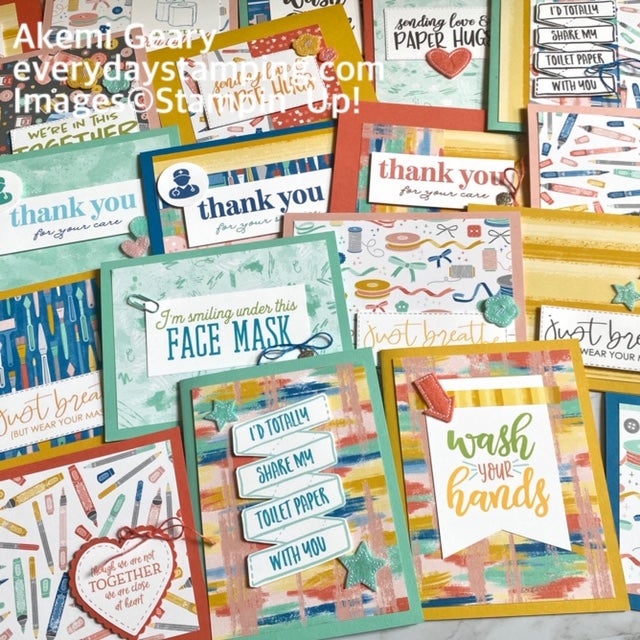 Today, I would like to share with you about the Stampin' Up! Day of Service Craft Party on May 21st.
Once a year on May 21st,

Stampin' Up!'s employees worldwide participate in acts of service to help our local communities

.
demonstrators and customers included—to find a way to serve in their community on this day.
This year, most of the employees are working from home due to the coronavirus.
So the Service Project was #ShareSunshine – "Making cards and send them to those who you care".
Sara and her family hosted a virtual craft party to do this mission.
Here is Sara (Stampin' Up! CEO)and her family's Facebook Live
Before the party Sara shared what we needed to prepare for the project.
Here is Sara's Cut Map for 12x12 inch Designer Series Paper.
To download, click the above image.
You just need to cut out the printed message with scissors, punches, dies as you like.
Then using the adhesive, add embellishments and cut-out-messages on card stocks.
It was simple to make, so I made 30 cards in no time!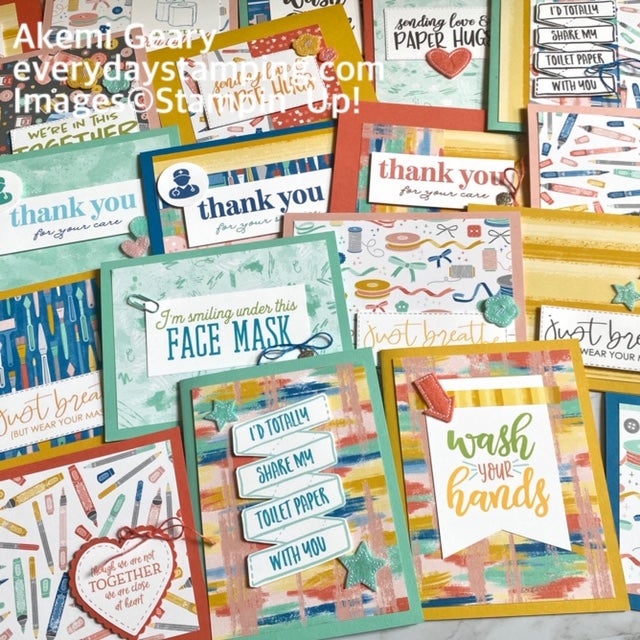 This weekend, I want to write a message on this card and send it to my loved ones.
The images of the various messages used to make this card are:
COVID-19 Charity Product "Share Sunshine" by Stampin' Up!
The digital stamp image can be downloaded as a PDF.
You can print it out on card stocks and use them for paper crafting.
US $12 for 15 pages of the PDF
100% of the Share Sunshine PDF Download proceeds will go to COVID-19 efforts through these organizations:

(WHO &UWW)
Stampin' Up! already raised US $200,000 from the Share Sunshine PDF Download.
The digital stamp image will be sold until June 2nd.
For more information
Click here for more information
Everyone, thank you so much for reading today.
I hope your day is filled with happiness even during this uncertain time.
Take care and see you soon!
Stampin 'Up! Independent Demonstrator (US)
Click here for questions and inquiries



Product List
Click here for shopping

This is the shopping page for the products that will be discontinued on June 2.
Some items will be discontinued as soon as they are out of stock.
You can find up to 60% off sale products.
If you are in the US and do not have a Stampin' Up! demonstrator, I will mail the catalog for free.
(The current catalog is until June 2, and a new catalog will be issued on June 3).
Click here for Catalog request
Download Catalog